Upgrade Your Necklace Packaging: 15 Stunning Custom Box Inserts to Impress Your Customers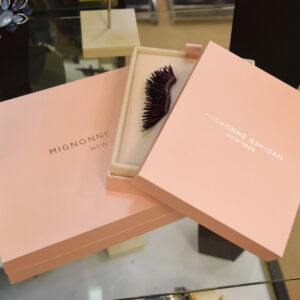 Custom necklace box inserts may be small, but they are mighty elements that can transform your packaging, by adding a touch of luxury and sophistication to your necklaces and jewelry packaging.
When it comes to creating a memorable unboxing experience, packaging plays a vital role. As an e-commerce business owner, you understand the importance of making an impression on your customers.
Here, we're exploring 15 stunning box insert ideas to impress your customers and elevate their unboxing experience of your beautiful jewelry on any special occasion.
Why Necklace Box Inserts Improve Customer Experience
A well-designed necklace box insert is more than just an aesthetic element, as it enhances the entire customer experience.
Imagine receiving a package with a beautifully presented necklace nestled in a velvet pillow insert. The anticipation and excitement build as you open the box, revealing the carefully crafted insert that displays the necklace's beauty.
The experience becomes not just about the necklace itself but about the attention to detail and the feeling of luxury that comes with it.
Your customers can feel confident knowing that their gift will be presented beautifully and sophisticatedly. With a pre-packaged gift box and an exquisite insert, you create an unforgettable moment for both the giver and the receiver.
15 Stunning Box Insert Ideas to Impress Your Customers
With so many customization options for necklace box inserts, as a business owner, it can feel overwhelming to choose the right type of insert.
Below is a list of creative and unique necklace box inserts to make your product stand out and give customers the confidence they're searching for when giving a gift to a loved one.
Velvet Pillow Inserts
For a classic and luxurious look, choose a velvet pillow insert. It cradles the necklace gently, creating a captivating display of elegance.
Foam Inserts with Cutouts
Ensure the necklace stays securely in place with foam inserts featuring precision cutouts. This option offers both protection and a visually pleasing presentation.
Customized Inserts
Showcase your brand's identity with customized box inserts. From incorporating your logo to unique brand designs, customization adds a personal touch that reflects your brand's values.
With CMYK and spot color printing, your logo and brand's colors will appear perfectly on every necklace box insert you order.
Satin Ribbon Inserts
Elevate the unboxing experience with satin ribbon inserts. The soft and lustrous ribbon complements the necklace, by exuding elegance and sophistication. A beautifully crafted bow can greatly enhance the unboxing experience of your product.
Eco-Friendly Inserts
Make an eco-conscious statement by opting for box inserts made from recycled materials, like kraft paper. Show your customers that you care about sustainability while still providing a stunning presentation.
Mirrored or Metallic Inserts
Create a striking visual impact with mirrored inserts, as the reflective surface adds a touch of glamour and allows the necklace to shine from every angle.
Cardboard Inserts with Compartments
If you offer multiple necklaces in a set or collection, you might consider using cardboard inserts with compartments. This ensures each piece has its designated spot, and makes it easy for customers to organize and access their jewelry.
Suede Inserts
Indulge your customers with the luxurious feel of suede inserts, as the soft texture adds a sense of opulence and sophistication to the unboxing experience.
Fabric Inserts with Patterns or Textures
Elevate your packaging with fabric inserts featuring intricate patterns or textures that align with your brand's aesthetic. The interplay of visual and tactile elements creates a truly captivating presentation.
Acrylic or Plastic Inserts
For a modern and sleek look, consider using acrylic or plastic inserts, as these materials offer a contemporary and minimalist aesthetic that allows the necklace to take center stage.
Flocked Velvet Inserts
Add a touch of elegance and texture with flocked velvet inserts, as the velvety surface creates a luxurious backdrop and will enhance the perceived value of the necklace.
Leatherette or Faux Leather Inserts
For a high-end look reminiscent of genuine leather, choose leatherette or faux leather inserts, because these materials provide a sophisticated and refined appearance, elevating the overall presentation of the necklace.
Printed Inserts
Infuse creativity and inspiration into your packaging with printed inserts. Consider adding motivational quotes, beautiful illustrations, or intricate patterns that resonate with your brand's values and style.
These printed inserts are perfect for special occasions and holidays – for example, you can print a touching quote for Mother's Day or a Bible verse for religious celebrations.
Custom-shaped Inserts
Capture attention and create a unique unboxing experience with custom-shaped inserts. Whether it's a silhouette that mimics your logo or a design that reflects the theme of your necklace, custom-shaped inserts leave an impression.
Combination Inserts
Don't be afraid to mix and match materials, colors, and textures to create a totally unique and personalized presentation. Combining different elements can add depth and visual interest to your box inserts, making them even more captivating.
How to Order Custom Necklace Box Inserts from Prime Line Packaging
Now that you're inspired by the stunning box insert ideas, let's explore how you can order custom necklace box inserts from Prime Line Packaging.
Choose Your Style and Material
Browse Prime Line Packaging's catalog to find the perfect style and material for your necklace box inserts. Consider the design, color, and texture that align with your brand's image and the message you want to convey.
Prime Line Packaging offers the following necklace box insert styles:
Two hooks
Three straps with snaps
Two straps with snaps and tab pull
Two hooks and a raised neck
Necklace/bracelet/ring combo insert
Our necklace box insert layouts offer protection and securely hold your jewelry in place.
Customize Your Design
Make your box inserts unique by incorporating your logo, brand colors, or specific design elements. Prime Line Packaging offers customization services to help you create a cohesive and memorable brand experience.
Select Your Quantity and Order
Determine the number of box inserts you require and place your order. Prime Line Packaging can accommodate your business's packaging needs, whether you need a small quantity for a special event or a larger batch for ongoing packaging needs.
Our Small Order Program is perfect for small businesses and individuals with hobby projects too.
Elevate Your Jewelry with Custom Necklace Box Inserts
Upgrade your necklace packaging and impress your customers with these stunning box insert ideas. By investing in custom necklace box inserts, you create a luxurious and unforgettable unboxing experience that reflects the value and uniqueness of your brand. From velvet pillow inserts to flocked velvet and customized options, the possibilities are endless.
Remember, packaging is not just about protection; it's an opportunity to connect with your customers on an emotional level.
Request a quote for your custom necklace box inserts from Prime Line Packaging today and elevate your brand's presence, leaving a lasting impression that will keep customers coming back for more.